🎄 Hello Heroine 2022 holiday gift guide
Here's what's on my wish list this year...
It's almost the holidays! Here are a few gifts to give the heroines in your life.
---
Books: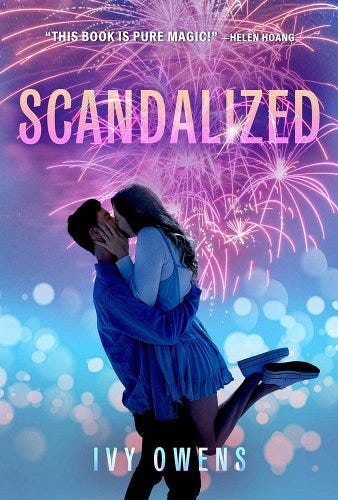 The romance reader: Scandalized by Ivy Owens* "A one-night stand between two old childhood friends turns into something more, but when a scandal threatens to tear them apart, they must decide how hard to fight for love--a steamy romance written under the pseudonym Ivy Owens by Christina Lauren coauthor Lauren Billings."
The hot girl book: The Comeback by Ella Berman* "Grace Turner was one movie away from Hollywood's A-List. So no one understood why, at the height of her career and on the eve of her first Golden Globe nomination, she disappeared. Now, one year later, Grace is back in Los Angeles and ready to reclaim her life on her own terms."
The YA fantasy reader: The School for Good and Evil by Soman Chainani* "This year, best friends Sophie and Agatha are about to discover where all the lost children go: the fabled School for Good and Evil, where ordinary boys and girls are trained to be fairy-tale heroes and villains."
The memoir lover: Broken Horses by Brandi Carlile* "Evocative and piercingly honest, Broken Horses is at once an examination of faith through the eyes of a person rejected by the church's basic tenets and a meditation on the moments and lyrics that have shaped the life of a creative mind, a brilliant artist, and a genuine empath on a mission to give back."
---
Floret Farms postcards:
"Floret Farm's Cut Flower Garden 100 Postcards is a collection of lush postcards featuring beautiful flower arrangements and bouquets. With 50 unique photos of beautiful blooms from Floret Farm, these postcards will brighten any correspondence." Pair with a fresh book of stamps for the perfect gift.
---
New York Puzzle Company puzzles:
These puzzle designs are so precious and perfect for the readers in your life. I love the New Yorker magazine cover puzzles, especially this one. So cute for Christmas day!
---
Snarky embroidered pillow:
I've been eyeing these smart-ass funky pillows all year, especially this one and this one. The colors! The sass! Such a cute piece of decor.
---
Kin & Cottage incense:
I've started burning incense this year and LOVE Kin & Cottage. Her scents are inspired by Southern culture and sell out so fast. The next drop is November 26 (Small Business Saturday) and I will be setting an alarm on my phone to stock up on some Christmas incense.
---
Replica perfume:
If you want to smell like a cozy winter get-together with your loved ones, you have to try this perfume. Don't let the woodsy scent scare you; it's not too spicy. Just right. This one's a great choice if you do want something smoky.
---
What are you wishing for this year?
🎁